VVV Manual One: How to Be a Fan
What even is Crit Racing?
Crit Racing 101: A huge grip of racers do like 50 laps or whatever around a short vaguely circular course with at least four corners.
Why are crit racers nicknamed Gladiators of the Road? Because crit racing is one part NASCAR, one part Saddle Bronc Rodeo, and one part explosive display of human speed and power, that's why. Listen, crits are rowdy and raw and dangerous and sweaty and sketchy and noisy like you don't even know. They're so fast and full of so much power they basically create their own weather and wind. Also, for you, a potential fan of crit racing, they happen on closed streets in cute little downtowns all across America so it's easy to drink and eat while you post-up on a corner to watch them come by fifty million times at basically light speed, and patiently wait for a sprint or a crash or whichever comes first.
MAKE NOISE
Venga Venga Venga! Make noise. The louder you yell the faster they go.
Official Chants from Around The World

Venga Venga Venga
Hup Hup Hup
Allez Allez Allez
Go Go Go

Banned Chants from Around The World
Bring Noise Makers! Bring a Marching Band.
Responsible Alcohol Consumption Helps
You can't be too loud!
Be a human Jock Jam.
Do
Don't Crash The Race Out
Spectator Code Of Conduct
Don't
Do
Do get autographs from the athletes. Before the race when they're staging is a great time, or after the race has ended. If you know who they are and can call the athletes by thier correct name, extra credit! Otherwise something along the lines of "I love what you do out there and thanks for the entertainment" works just fine.
Do offer hand-ups.
Do offer cool downs on a hot day. *Look for an eye contact confirmation if you can.
Do spend a little cash and get yourself into the VIP section. Bike races are a great place to do some light ballering.
Don't
Don't lean over the barricades.
Don't hang jackets over the barricades.
Don't hold signs-up in front of the Peloton as it passes.
Don't lean into the course, or walk out into the course, to take a selfie with the race as it approaches.
Don't let your camera strap flap around or hang over the barricade.
Don't forget to look both ways several hundred times before crossing the course. Also if you can cross where there are volunteers present to assist you. They know stuff.
Don't underestimate how fast they come past, how close to the edge they are, and how dangerous it is in there.
How do you support your favorite rider?
Make it a picnic
The French Way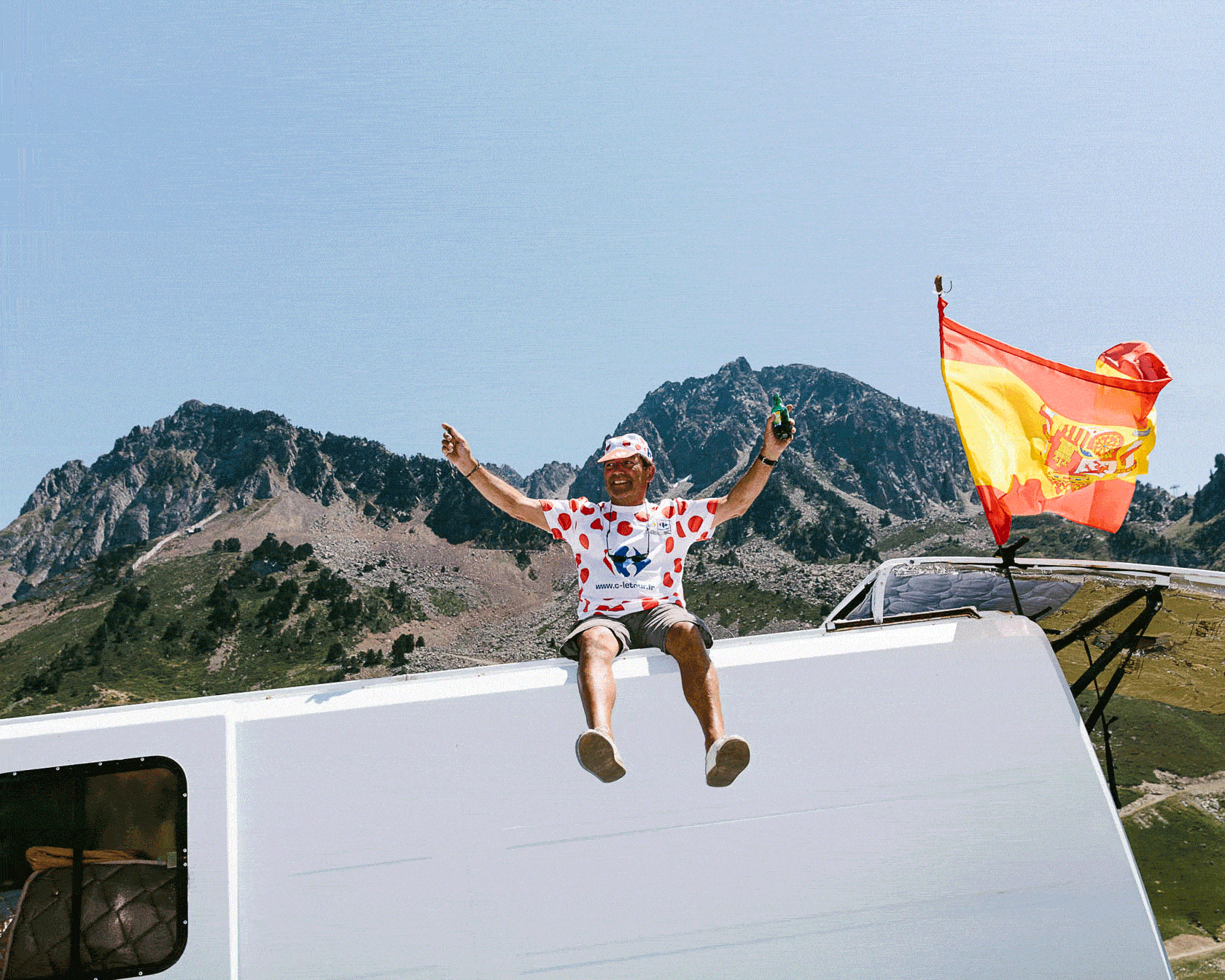 Make it a party
The American Way
Fan Art
The Highest Expression of Fandom
A brief list of Fan Art Inspiration, Types, Ideas and Prompts:
T-shirts
Flags
Scarves
Chalk Art
Painted Vehicles
Wearing Too Many Hats
Signs
Fan Club Memorabilia
Stuffed Animals
Dare Wear
Giant Cutout Heads
Rider Cards
Rock Band Posters
Fantasy Track Racing League
Dave Towle Bingo
Dave Towel, the voice of American Crits and by far the greatest Cycling Race Announcer to ever live, is an icon and his colorful, bombastic, hyperbolic descriptions are a crit racing institution such that we made this bingo-inspired catalog of crit expressions.
Cocktail napkins with outboard motors bolted on
We're ready for take off. Fans, help me blast these riders off into space.
PRIME!
VIP Tent Mention
Dave obviously needs a glass of water
Winner Interview
Call to staging
Guesses a riders name wrong
Free Lap
It's illegal to spank your kids the way he spanked that sprint.
Jail Break
Crash on course
Hurricane of pain
Rider Interview
Breakaway in the race
One more lap like that and we'll need the national guard
Organizer Interview
Sun screen
Folding Chair
Towell
Radio
Snacks
Alcohol (no glass, please)
Cash
Remember where your car is. Don't lock your keys in your car ;).
Good walking shoes.
Chapstick
Bring Friends or lovers or dogs or kids or neighbors
Bring Your Butt
#baracadebutts
WHAT ARE THE PROS SAYING?
Fans crossing the course too close to the race is no bueno, but I love a good cheering section.

Skyler Schneider
The larger the crowd the better! If I end up in a yard party or VIP tent post race I'm happy.

Davey Dawson
Hecklers on a Onewheel are probably my favorite.

Adam Schepps
The best is when people recognize me and ask for pictures!

John Harris
Alligators

Kimberly Lucie
I love when kids ask for bottles.

Sam Rosenholtz
It's about being part of the big show!

Brenna Wrye-Simpson
Domestic Crit Racing pros are just like us, but they don't make a lot of money, and they travel all the time to do racing. When a race is in your town, HOST A TEAM!
"*" indicates required fields